Covid-19
Update
A Trusting Togetherness
- albeit at a distance
For your safety and ours
We are pleased to keep you up to date with the latest information and measures concerning Covid-19.
Your and our safety is very important to us and we have developed a comprehensive hygiene concept taking into account all governmental requirements and WHO recommendations. So you can be sure that you can enjoy a wonderful time and a safe stay with us. Get an idea of the current status of our hygiene concept.
Please note that we will continuously adapt according to the Austrian guidelines.
No proof is currently required when entering Austria.
No proof is currently required for travel in Austrian hotels.
Almost all of our employees are vaccinated or recovered from Covid-19.
All public areas such as toilets, reception hall, restaurant, kitchen are regularly cleaned and disinfected in shortened cleaning cycles.
Before your arrival, your room will be thoroughly cleaned, aired and disinfected as usual.
Hand disinfectants are always at hand for you.
We use local products from the region wherever possible, supplied by farmers and local producers.
We ensure that all guests are able to maintain a safe distance from other guests.
All common areas are thoroughly aired, cleaned and disinfected on a regular basis.
Vaccinated & Recovered
The EU-compliant vaccination certificate, the yellow vaccination passport, a vaccination card and a printout or a PDF (e.g. on a mobile phone) of the data from the e-vaccination passport are valid as proof of vaccination.
Immunisation by two partial vaccinations:
After receiving the second vaccination, the validity period of the vaccination certificate is 270 days and at least 14 days must have elapsed between the two vaccinations.
Immunisation by one vaccination:
From the 22nd day after vaccination with a single-dose EMA-approved vaccine against SARS-CoV-2, the proof of vaccination is valid for 270 days.
Note: Proof of vaccination with one dose of Johnson & Johnson vaccine will expire on 3 January 2022. Therefore, a 2nd dose is required at the earliest 14 days after the 1st dose in order to continue to receive a valid proof of vaccination.
Immunisation by convalescent vaccination:
Provided there was a positive molecular biology test for SARS-CoV-2 at least 21 days prior to vaccination or there is already evidence of neutralising antibodies at the time of vaccination, proof of vaccination is valid for 180 days from the time of first vaccination with an EMA-approved vaccine against SARS-CoV-
Further vaccinations ("3rd dose"):
After receiving a further vaccination, the validity period of the vaccination certificate is again 270 days . A minimum of 14 days must elapse between this vaccination and an immunisation in which only one vaccination is scheduled. For all other vaccination schedules, at least 120 days must have elapsed.
Approved vaccines are: BioNtech/Pfizer (2 doses), AstraZeneca (2 doses), Moderna (2 doses), Sinopharm (2 doses), Sinovac (2 doses) and until 3rd January 2022 Johnson & Johnson (1 dose).
A valid certificate of recovery according to the current guidelines is:
A convalescence certificate
A certificate of isolation from the authorities
A medical confirmation of an infection with SARS-CoV-2 (this must have been proven by molecular biology (e.g. PCR test)).
All these proofs of genesis must not be older than 180 days.
A valid test result within the meaning of the regulation is:
A negative test result of a molecular biological test for SARS-CoV-2 (PCR), which was taken not more than 72 h ago.
A negative test result of an antigen test for SARS-CoV-2 (except for self-testing), which was taken not more than 24 h ago.
The obligation to present valid proof does not apply to children up to the age of 12.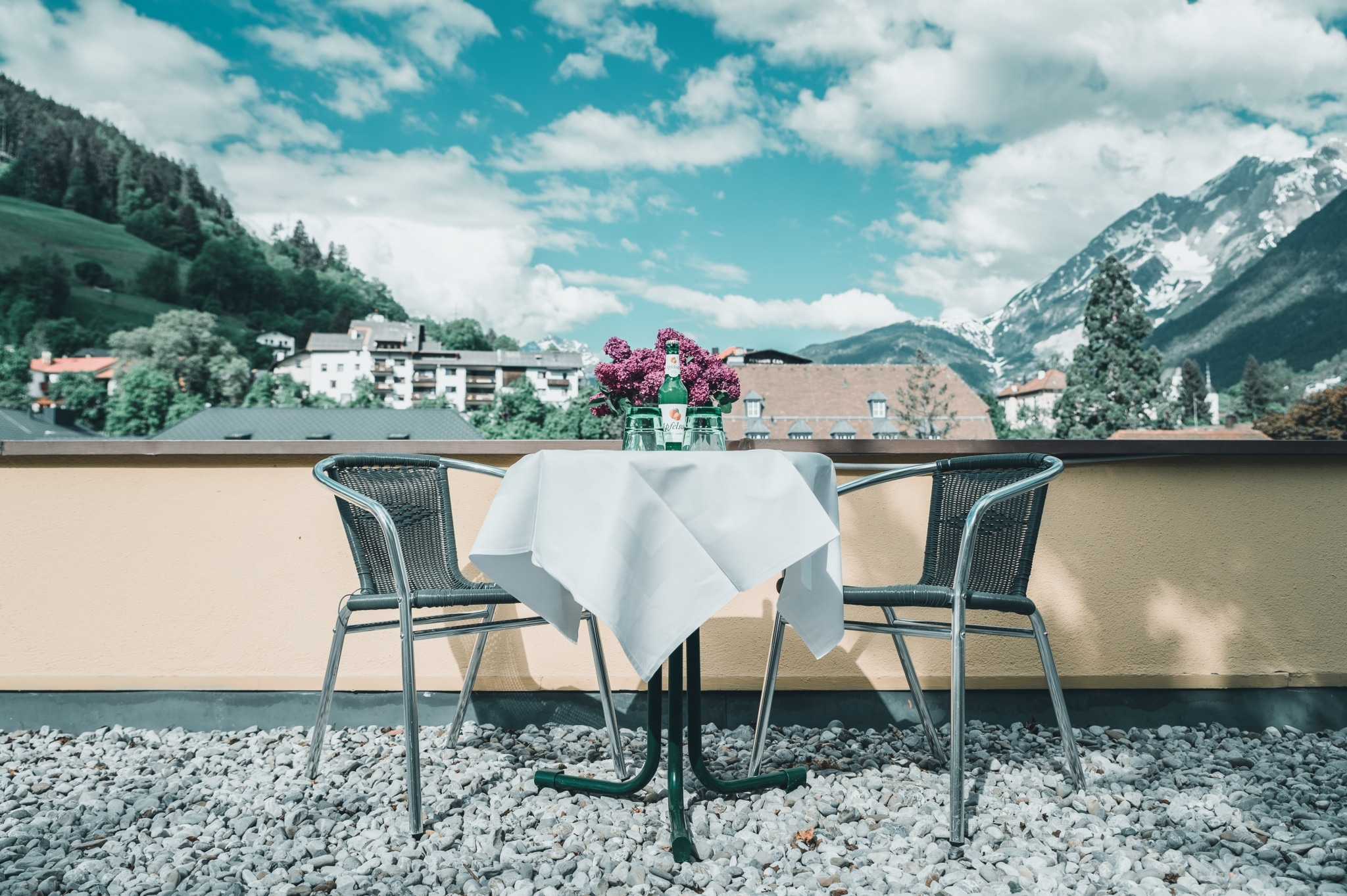 We look forward to welcoming you
in the heart of Tyrol